John Kinsman, Presente!
http://familyfarmers.org/?p=1065
John Kinsman, Founder and Longtime President of Family Farm Defenders, Has Passed Away
John Peck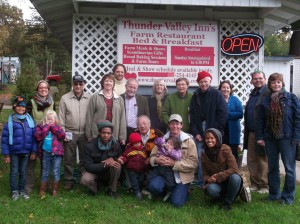 Here is the sad news that some were expecting.
John Kinsman passed away earlier this afternoon at his family's farm.
I was actually able to visit him yesterday and talked to him a bit. Though he was not able to respond, he could certainly understand and even laughed at one point. He also appreciated all the cards that folks have been sending to him and which his family read to him.
If folks could let others know what has transpired and refer them to this website for more details that would be very helpful. John has literally touched the lives of thousands of people as a grassroots pioneer of organic sustainable agriculture and globe trotting advocate of food sovereignty for decades.
His family is still planning the details for his funeral, but are hoping to have a wake at Hoof Funeral Home at 312 N Park St. in Reedsburg on Fri. Jan 24th in the evening and the funeral at St. Boniface Catholic Church in Lime Ridge on Sat. Jan. 25th The exact times have not been set yet, but people can check with the Hoof Funeral homewww.hooffuneralhome.com 608-524-2337 if they wish to attend.
We would also like to share some of his legacy at the 3rd Annual John Kinsman Beginning Farmer Food Sovereignty Prize Award Dinner to be held on Sat March 15th at UW-Baraboo with Raj Patel as the keynote speaker. Sponsorships of this tribute are still being accepted. More details on the weekend's schedule of activities will be posted soon on this website.
For those who may be curious to learn more about the inspirational life of John Kinsman, below are some links to recent profiles and interviews.
His voice and spirit will be sorely missed!
- John E. Peck, executive director
Etiquetas: eng, John Kinsman